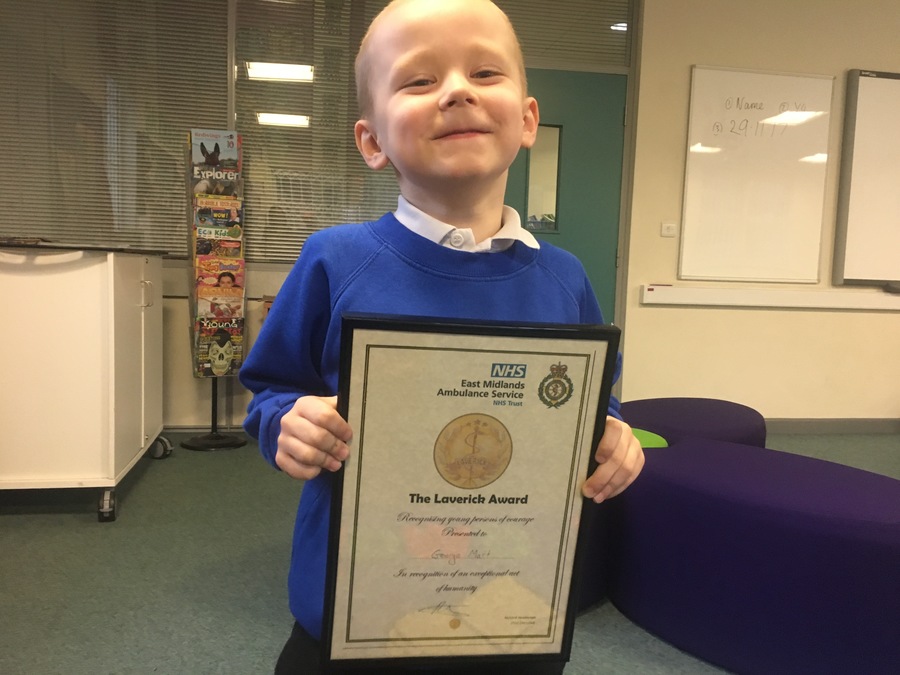 July 2017 - Tom (Yr 6) receives the John Murday Trophy from Mrs Core.
Well done Tom for being: respectful, kind, caring, determined, focused and for not having had a day off school ever!!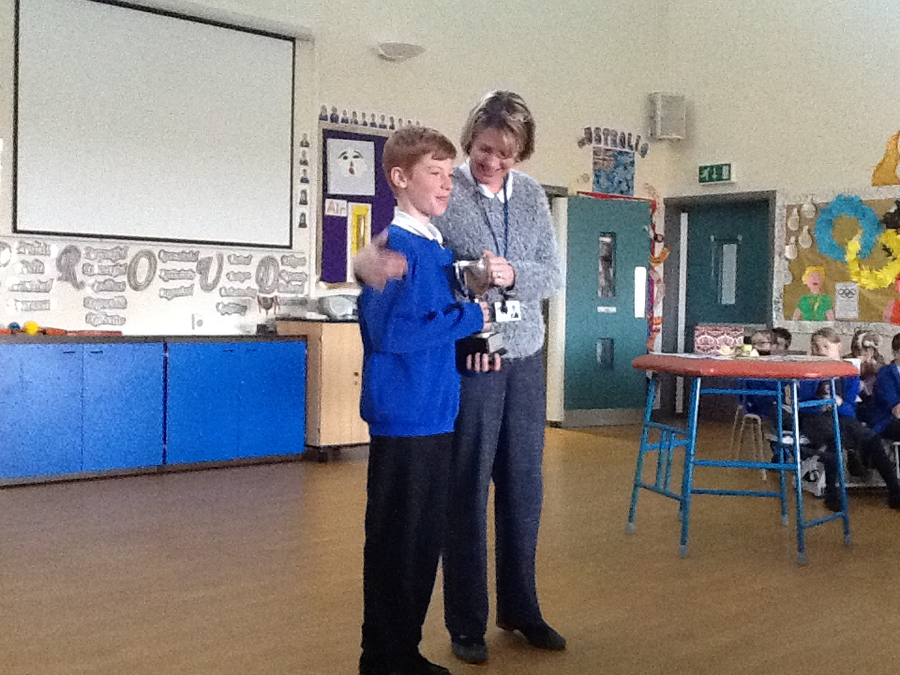 World Book Day was a great success with lots of interesting characters coming to school!
See how many different characters you can find in these photographs that were taken on the day.
Maths Challenge - Well done to everyone for an amazing effort.
Well done Earth: winners of the House Spelling Competition
Congratulations to the pupils in Y5/6, who represented the school in the Amber Valley Tag Rugby Competition on 2nd November 2016. They played brilliantly as a team, making it through to the Quarter Finals, on a cold November evening at Belper Rugby Club.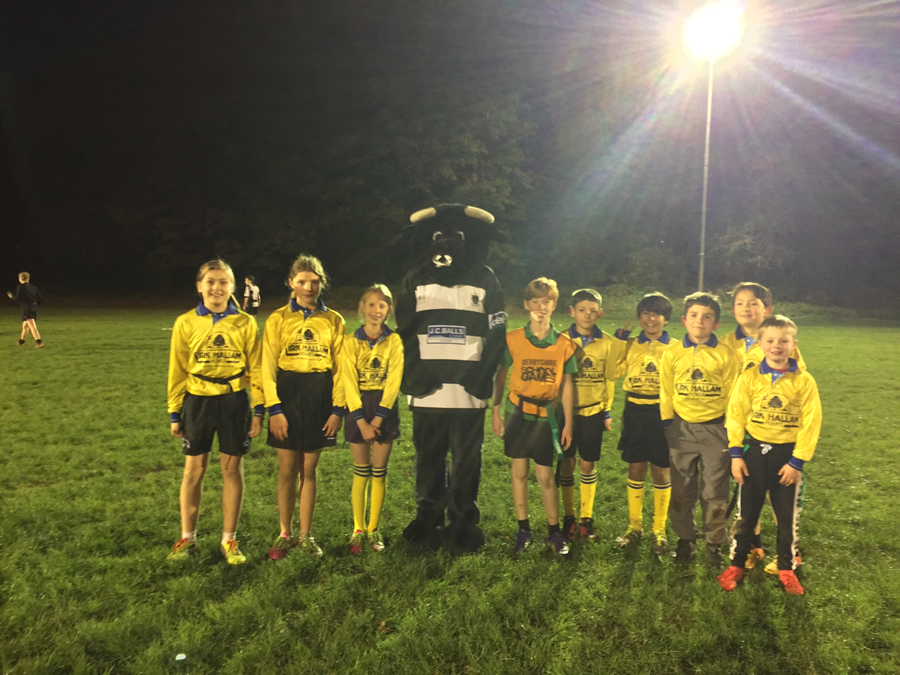 Attendance
Each week Herbie bear is awarded to the class with the best attendance. A Gold cup shows which class has the highest attendance each week.
The class with the highest attendance at the end of the year gets to shop on-line at Build a Bear.
Achievement Assembly
On Friday we celebrate the achievements of two people from each class in assembly; they will come home wearng a "Star of the Week" sticker: Ask them what they have done to earn this. Any child who has achieved a "Silver" badge will receive it and class "House Captains " add beads to the House Point "tubes" in the hall and see which team is in the lead that week. Below are the winning designs for each House.
They were painted by:
Water-Anya ; Earth-Orla ; Fire-Amelia ; Air-April painted their designs onto the canvas frames, which are displayed in the hall.
Understanding, Diversity and Equality Spring 2 2015
The children have had the opportunity to show what they have learnt in assemblies and PHSE lessons, by entering two competitions. One was to create a Mr Man/Little Miss on the theme of equality. The winning character 'Little Miss Equality' was designed by Isobell (Y5), and her design will be used on documents and posters in school.
Little Miss Equality
Although she is called Little Miss Equality, she is really neither a girl or a boy, she is both. She dedicates her life to being equal and she makes sure everybody gets treated the same. She is friends with everybody. She doesn't treat people differently just because of their skin colour, their gender or even about what they like. She thinks just because somebody is different it doesn't mean they should be treated differently.
By Isobell Yr5
The runner-up was Arabella (Y3) for her thoughtful written explanation of her design.
Little Miss Polite
The main shapes of the drawing are heart. This is a symbol of politeness. I chose green because it is a calming colour and she would like to bring tranquillity to the world.
By Arabella Yr3
Parliament Flag Project-Spring 2015
Congratulations Herbert Strutt!
We werenominated by the local MP, Mrs Pauline Latham, to represent the constituency in this exciting, national initiative run by the Houses of Parliament. To mark the anniversary of the Montfort Parliament of 1265, where representatives from across the country came together for the first time, Parliament invited 650 schools, one from every constituency, to design a flag to represent where they live.
We were delighted to be chosen to represent Belper.
As the Y6 children visit Parliament in the summer term, they were offered the chance to design a flag. The flags below all show a great deal of thought in terms of their colour and what they represent, as well as the symbols they have chosen.
Flag 1: Shannan; Flag 2: Oliver G and William L; Flag 3: Morgan; Flag 4: Branwen; Flag 5 & 6: Amy H; Flag 7; Harley D.
Well done to all of you: You have been great designers!
We had the really hard job of choosing just one to send to Parliament, which we did democratically, by everyone in the school having a vote.
The winning flag, with the most votes and sent to Parliament was designed by Oliver G and William L
You can see the online exhibition by clicking here: www.parliament.uk/2015flaghub
Gardening and wildlife at school
March 2015
The gardening club started again this term with a record number of children wanting to take part.
The children have the opportunity to work in the school garden every Tuesday lunchtime with Mrs Core and Mrs Lemon, one of our KS2 parents.
Mrs Lemon made sure the beds were all prepared for the season earlier this year and spent time with last year's group, counting up the Morrison's Let's Grow vouchers and shopping online for new plants and equipment-a special thank-you to Jack H in Y6 for helping her with this!
This term, the children have enjoyed digging over the beds, planting raspberry canes and seed potatoes, as well as looking for signs of spring life in the pond and the Mini-beast Hotel.
Next week they will be sowing sunflower seeds (kindly donated by Grace and Ellie's dad), weeding the planters outside the KS2 classrooms and looking for changes to the frog spawn in the pond.
Mrs Carr, another of our KS2 parents has also been giving her time trimming the willow den on the field. This is proving to be quite a task! Children have enjoyed helping to weave in the willow and replanting the off-shoots.
February 2015
Finley's dad (Y1) brought in some bird feeders and bird food, which have been kindly donated by Wilko, who he works for. The children have filled them up and hung them on the trees. Now everyone will be able to watch the birds feed as they enjoy their own lunch. Thank-you Wilko! Pictured below are Amy and Joseph Y5) with Finley (Y1).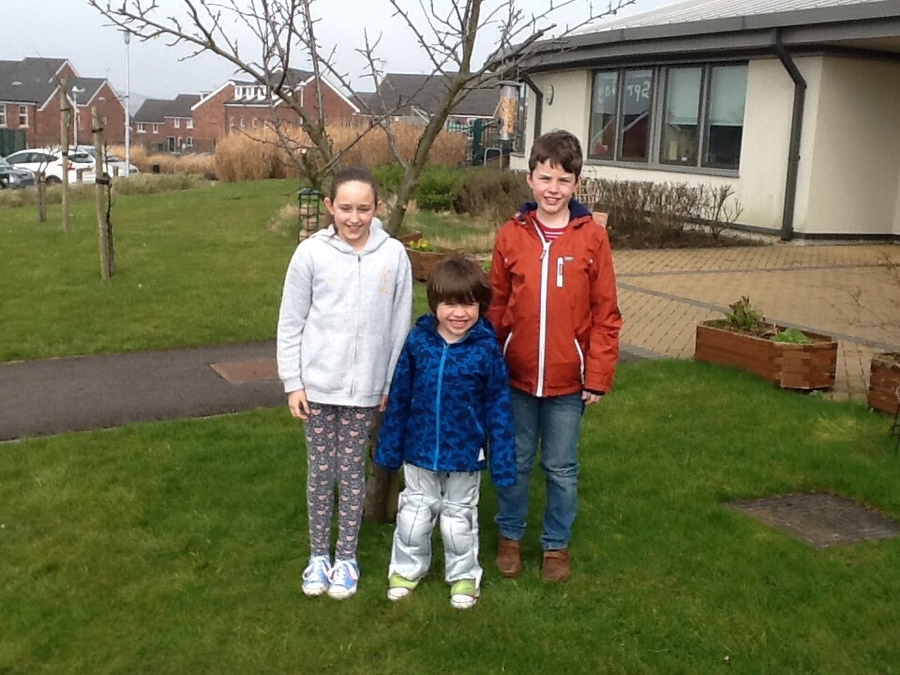 Environmental Theme Week-February 2014
We had a fabulous week working together on different environmental activities with our own class, as well as spending two mornings working in our Family House teams (Fire, Earth, Water and Air).
During these mornings, parents and carers worked with their children, as they moved around school learning about the environment through a variety of workshops led by adults, such as, creating "Hockney" style art work of our school; treasure hunting in the grounds, making bird feeders, orienteering etc.
Orla and Imogen's mum taught Year 5 and 6 how to use willow to build giant "Flanimal" sculptures, which guard the KS2 gate and the "Gold" area and Scarlett's mum spend a rainy day pond dipping with each class and investigating what lay beneath!
Each class also made a giant display for the hall.